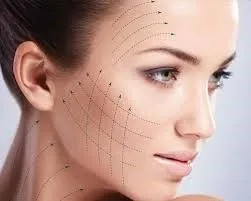 Dr. Radeka is happy to offer to her patients a revolutionary new way to lift skin, fill in wrinkles and add volume to the face-without surgery or downtime.
The procedure, she likes to refer to as The Lift, is based upon the use of PDO (Poly Diaxanone) absorbable suture thread.  After targeting areas on your face that need increased volume or to be lifted, Dr. Radeka will draw out the path that her pre-loaded suture material will follow.  The patient may be injected with Lidocaine to numb area and a smooth, looped or barbed thread is inserted under the dermis.  For adding volume a smooth or looped thread is used, for a Lift a barbed thread is used.  The results are immediate, dramatic and can last up to two years.
The cost of the procedure is based on the number of threads and type of threads used.  The cost of the threads is considerably less then the cost of fillers and can be used safely, including areas where fillers cannot be used.
After approximately three months, the PDO thread is naturally absorbed into the skin, and, in its place, collagen has grown to maintain the new effect.  After the initial insertion of the PDO thread, the change is gradual.  As the threads dissolve and new collagen is formed, the result is a very natural-looking mini non-surgical facelift that only improves with time.  It also costs a fraction of what fillers or a surgical facelift cost.
The PDO ThreadLift is ideal for any area that would require a facelift or be treated with fillers, including the cheeks, the nasolabial folds, the corners of the mouth/marionette lines and the neck.  PDO thread has been used for decades in plastic surgery and reconstruction.  It is one of the best and safest materials you can put into your body.  There will be no scarring, minimal recovery and the procedure can be repeated without ill effects.
To see if PDO Threads are right for you, please call Dr. Radeka to schedule a complimentary consultation.