My Blog
Posts for: January, 2015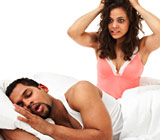 Research has revealed that over 12 million Americans suffer from Obstructive Sleep Apnea (OSA), a condition that occurs when the upper airway (tissues at the back of the mouth and throat) collapse causing significant airflow disruption or even no airflow whatsoever for 10 seconds or more. It can leave you feeling tired, depressed, irritable, as well as cause memory loss and poor concentration. But, did you know that we can help treat your sleep apnea?
The primary method dentists who are trained in sleep medicine use to treat OSA is through the use of an oral appliance. Similar in look to an orthodontic retainer or sports mouthguard, oral appliances are designed to maintain an opened, unobstructed, upper airway during sleep. And while there are many different oral appliances available in the marketplace, less than 20 have been approved through the FDA (Food and Drug Administration) for treating sleep apnea. The key to success is to avoid those over-the-counter (OTC), generic mouthguards and instead use a professionally made and custom-fitted oral appliance, made from a precise models of your teeth and mouth. They are best at keeping your airway open and preventing the muscles and soft tissues from sagging down when relaxed during sleep. Other advantages of custom-fit oral appliances are that they can reposition your lower jaw, tongue, soft palate and uvula (the tissue in the back of the throat that dangles like a punching bag); stabilize your lower jaw and tongue; and increase the muscle tone of your tongue.
But Is Treatment Really That Important?
Absolutely! If undiagnosed and/or left untreated, sleep apnea can be life threatening. It can cause heart attacks, strokes, impotence, irregular heartbeat, high blood pressure, and heart disease — many of which can kill you.
Want To Learn More?
To learn more about sleep apnea, read the Dear Doctor article, "Snoring & Sleep Apnea." Or if you are ready for a thorough examination and to discuss your snoring, contact us today to schedule an appointment.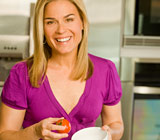 Cat Cora is a world-class chef, restaurateur, best-selling author, and philanthropist — on top of being the first female chef on the hit television show Iron Chef America. She is also the mother of four active young sons. And while all these important roles require her daily attention, she makes oral health a top priority for herself and her family through diet, brushing, flossing and routine visits to the dentist.
During a recent interview with Dear Doctor magazine, Cat revealed that she had her wisdom teeth removed when she was in her thirties and another tooth extracted and replaced with a dental implant. When asked to compare the two experiences, Cat said that the implant was "much easier for me." She went on to say, "It feels very natural" and "now, I don't even think about it."
Some may be surprised by Cat's response; however, we find it to be a quite common one.
There is no question that over the last two decades, dental implants have revolutionized tooth replacement and the field of dentistry. A dental implant, used to replace missing teeth, is placed in the jawbone with a minor surgical procedure. What's amazing is that over time these dental implants actually fuse with or integrate into the bone, thus making them an ideal permanent solution for replacing a missing tooth. They are typically made of commercially pure titanium, a substance that has been used for medical and dental implants for years. The crown, the part above the gum tissues, is attached to the implant via a retaining screw and a connecting piece called an abutment. The crown itself is artistically crafted using porcelain to mimic the look and feel of a natural tooth — just as Cat Cora describes.
To learn more about dental implants, continue reading the Dear Doctor magazine article "Dental Implants, Your Third Set of Teeth." Or you can contact us today to schedule an appointment so that we can conduct a thorough examination and discuss what treatment options will be best for you. And to read the entire interview with Cat Cora, please see the article "Cat Cora."